镜像[Mirror Images] - Jeuno Quest
楼主
dagger
时间 2017-06-29 • 0人收藏 • 116人看过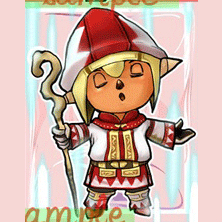 开始NPC :LUTO mewrilah - Upper Jeuno(八国集团) Luto Mewrilah - Upper Jeuno (G-8)

可重复的 :没有 No

奖励 :冒险的家伙学会幸福的光芒 Adventuring Fellow learns Blessed Radiance

加强你和你的冒险伙伴之间的联系(增加最大冒险同债券从90到120)。 Strengthens the bonds between you and your adventuring fellow (increases max Adventuring Fellow Bond from 90 to 120).:任务步骤

以前的追求区,然后一幕讲mewrilah LUTO。 Zone after the previous quest, then speak to Luto Mewrilah for a cutscene.:头一个上限为50级的战场事件有15分钟的时间限制在fei'yin qu'bia竞技场。 Head to Qu'Bia Arena in Fei'Yin for a solo Level 50 cap battlefield event with a 15 minute time limit.

失败的血族瓦沙克。
Defeat the Kindred Vassago.
战斗结束后,返回到Upper Jeuno跟LUTO mewrilah一幕。你必须在你的清单或MOG MOG信号珍珠,挎包袋。
After the battle, return to Upper Jeuno and speak to Luto Mewrilah for a cutscene. You must have Signal Pearl in your inventory, Mog Satchel or Mog Sack.

头下的第一道门在海王星的尖顶左Jeuno和点击(J-7)为最后的过场。
Head to Lower Jeuno and click on the first door on the left inside the Neptune's Spire (J-7) for the final cutscene.
策略与技巧
Strategy & Tips

战场上的对手是瓦沙克,亲情的黑暗骑士用镰刀;他把排水管,吸入,吸收,和其他黑暗的法术,以及亲属的TP攻击。
The battlefield opponent is Vassago, a Kindred Dark Knight with a Scythe; he casts Drain, Aspir, Absorb, and other DRK spells, as well as Kindred TP attacks.
他还用枯萎的忧郁,一个非常强大的黑暗元素攻击,从而忽略了阴影。
He also uses Blighted Gloom, a very strong Dark elemental attack, which ignores shadows.

如果这是针对你的,你可以很容易地运行范围以避免损坏;它需要10秒的时间他说"枯萎的忧郁……镜子我命令你"之前,他将被黑暗攻击。当他使用它的时候逃跑。他还可以打你10秒预警期间成功地击中你枯萎的忧郁,所以尽量保持尽可能远的地方,让你的人大把恨你。
If this is directed at you, you can easily run out of range to avoid damage; it takes 10 seconds from the time he says "Mirror of Blighted Gloom...I command thee" before he launches the Blighted Gloom attack. Run away when he uses it. He can still chase you down during the 10 second warning period and successfully hit you with Blighted Gloom, so try to stay as far away as possible and allow your NPC to take hate off you.
如果你的NPC是有针对性的,然而,枯萎的黑暗将光芒反击(所以坚定祝福屏蔽效果很好)。你的NPC将从破旧的昏暗无损伤。
If Your NPC is targeted, however, Blighted Gloom will be countered with Blessed Radiance (so Stalwart Shield works very well). Your NPC will take no damage from Blighted Gloom.

如果你仍然有仇恨,站在全国人民代表大会(如你会做的封面或把戏攻击)将导致能力打开始NPC。(见讨论页讨论。)
If you still have hate, standing behind the NPC (as you would do for Cover or Trick Attack) will cause the ability to hit the NPC instead. (See Talk Page for discussion.)
幸福的光芒从就是LV50(不封顶)坚定的盾的家伙只会下降约5-6%瓦沙克做约200的伤害。
Blessed Radiance from a LV50 (uncapped) Stalwart Shield fellow will only take Vassago down about 5-6% doing approximately 200 damage.

据说他麻痹很敏感。沉默和缓慢也将坚持。
He is reportedly very susceptible to Paralyze. Silence and Slow will also stick.
他的近战攻击是非常强大的,在150-200损伤处理。
His melee attacks are very strong, dealing around 150-200 damage.

然而,他的近战攻击击中100和少一个坚定的盾的家伙,他轻易的坦克他自愈了没有你做的东西打80%。
However, his melee attacks will hit for 100 and less to a Stalwart Shield fellow, who easily tanks him and self heals without you doing anything for 80% of the fight.
如果150-200损伤听起来像很多的你,可以使用tavnazian塔可你食物的影响是一个好主意。该战争完全经过tavnazian塔科从未超过100的伤害和毁灭的黑暗瓦沙克,伤害119点。counterstance不推荐(我们说的是超过500的伤害如果枯萎的忧郁地)。
If 150-200 damage sounds like a lot to you, it may be a good idea to use a Tavnazian Taco for your food effect. MNK/WAR fully buffed with tavnazian taco never took more than 100 damage from Vassago, and Blighted Gloom hit for 119 damage. Counterstance is NOT recommended (we're talking over 500 damage if Blighted Gloom lands).

因为他用镰刀,他的攻击速度相当慢。
Since he's using a scythe, his attack speed is fairly slow.
如果你或你的同伴是高,你被逐出战场。
If you or your Fellow is KO, you are ejected from the battlefield.

全国人民代表大会和瓦沙克不会做任何动作直到你接近他们,让时间来提高。
The NPC and Vassago will not do any action until you approach them, giving time to buff up.
你不能使用安眠药/ OPO OPO项链TP增益(它将重置为0%),也可以在进入使用reraise发夹(它会消失)。
You CAN'T use Sleeping Potions / Opo-Opo Necklace for TP gain (it will reset to 0%), nor can you use Reraise Hairpin before entering (it will wear off).

你仍然可以在这场战斗中使用您的子作业。
You CAN still use your subjob in this fight.
如果你死了,你会失去口
If you die, you will lose exp.