安魂曲[The Requiem] - Jeuno Quest
楼主
dagger
时间 2017-06-29 • 0人收藏 • 100人看过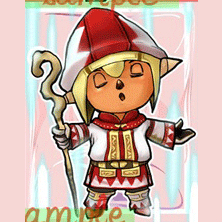 开始NPC :直径tbujhja - Lower Jeuno(H-8) Bki Tbujhja - Lower Jeuno (H-8)

要求 :巴德50 + Bard 50+

所需物品 :神圣的水 Holy Water

可重复的 :是的,通过擦除记忆 Yes, by erasing AF memory

奖励 :合唱的拖鞋 Choral Slippers

任务步骤

你必须在BRD激活动画。
You must be on BRD to activate the cutscene.

在快乐的吟游诗人到直径tbujhja谈话,Lower Jeuno(H-8)谁要一瓶圣水。
Talk to Bki Tbujhja in the Merry Minstrel, in Lower Jeuno (H-8) who asks for a vial of Holy Water.
贸易tbujhja直径的圣水,她会告诉你,你需要对过去的诗人表达敬意。她返回圣水和指引你倒瓶上的石棺在Eldieme大墓地。
Trade Bki Tbujhja the Holy Water and she will inform you that you need to pay your respects to the Bard of yesteryear. She returns the Holy Water and directs you to pour the flask onto a sarcophagus in The Eldieme Necropolis.

你可以跟mataligeat Lower Jeuno(H-8)一点更多的信息关于这个吟游诗人,他是如何来到了一个可怕的结局。
You can speak to Mataligeat in Lower Jeuno (H-8) for a little more information about this bard, and how he came to a horrible end.
头beaucedine冰川然后batallia起伏。曾经有一次,通过在F-5的入口进入Eldieme大墓地。
Head to Beaucedine Glacier then to Batallia Downs. Once there, enter the Eldieme Necropolis via the entrance at F-5.

由于wotg,现在可以起床窗台和的石松(NPC)在过去,从此在现在你可以交易一个合适的花朵绚丽的灯光瞬间移动到窗台。
Thanks to WotG, it is now possible to get up the ledge by talking to the Lycopodium (NPC) in the past and from then on in the present you can trade an appropriate flower to the sparkling lights to instantly move up the ledge.
你也可以使用atmacite磨浆机传送到beaucedine,使你在batallia区线。
You can also use the Atmacite Refiner to teleport to Beaucedine, which puts you near the Batallia zone line.

让你一路充满D-4五石棺的尽头的房间。在准备好的时候,贸易圣水瓶的一个石棺产卵三骨架臭名昭著的怪物:黑法师,百胜金正日,和两个勇士,猫头鹰守护犬守护。
Make your way to the dead-end room filled with five sarcophagi at D-4. When ready, trade the vial of Holy Water to one of the sarcophagi to spawn three Skeleton Notorious Monsters: A Black Mage, Yum Kimil, and two Warriors, Owl Guardian and Dog Guardian.
你需要交易的石棺是随机的。
The sarcophagus you need to trade to is random.

像所有的骨骼,只有光的睡眠会工作(休息,摇篮曲,羊之歌,等)。百胜金正日不能睡。
Like all skeletons, only light based sleep will work (Repose, Lullaby, Sheep Song, etc.). Yum Kimil cannot be slept.
而潜入产卵也不能阻止仇恨。
Spawning them while sneaked will not prevent aggro.

一方只需要杀一次的网管系统。贸易的圣水后,NMS是死的石棺。
A party will only need to kill the NMs once. Trade the holy water after the NMs are dead to the sarcophagus.
如果你带或死后弹出他们,你的党的其他人可以拉一个在一个时间。
If you zone or die after popping them, the rest of your party can pull one at a time.

没有必要杀死所有三网络管理系统。如果你把一个纳米,然后等待其他两消失前杀死它,你只需要打一个。
It isn't necessary to kill all three NMs. If you pull one NM and then wait for the other two to despawn before killing it, you only need to fight one.
如果你失败了,立即触摸石棺将导致"无事"。等待几分钟,当你触摸了NMS将重生。你不需要换一个神圣的水。
If you are defeated, immediately touching the Sarcophagus will result in "Nothing Happens". Wait a few minutes and when you touch it again the NMs will respawn. You do not need to trade another Holy Water.

一旦他们已经被打败,重新调查相同的石棺上你泼圣水为动画和接收星环(重点项目)。
Once they have been defeated, re-investigate the same sarcophagus onto which you poured the Holy Water for a cutscene and to receive the Star Ring (Key Item).
回到与tbujhja Lower Jeuno直径和完成任务。
Head back to Lower Jeuno and talk with Bki Tbujhja to complete the quest.

战略信息看证明书。
For strategy information see testimonials.
笔记
Notes

百胜金正日拥有约8000惠普。
Yum Kimil has approximately 8000 HP.
猫头鹰守护者大约有5800点。
Owl Guardian has approximately 5800 HP.

狗的守护者大约有6000点。
Dog Guardian has approximately 6000 HP.
百胜金正日可以沉默。
Yum Kimil can be silenced.

百胜金正日拥有强大的先天enfire,barfire推荐。
Yum Kimil has a powerful innate Enfire, Barfire is recommended.